Pick up your copy of the Waitemata Hunt 2015 Hunt Card to redeem one free hunt*
You can collect your Hunt Card at a Hunt Meet or from most feed and saddlery stores throughout the Kumeu, Dairy Flat, Albany, and Helensville areas.
Terms and conditions apply.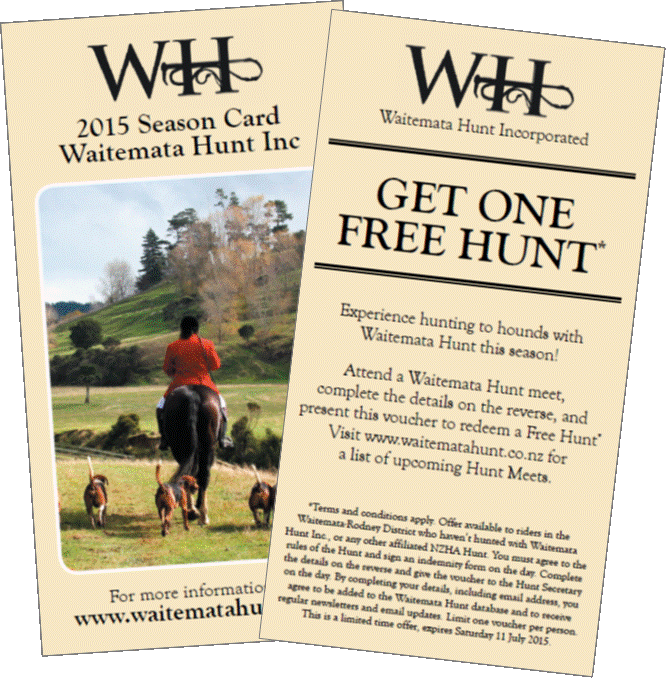 Sun 5 Invitation to Pakuaranga & Maramarua Hunts. Note the change of venue: now at Stoneybrook, SH16, Woodhill. $5 donation per person to Hospice payable to the Secretary on the day.
Wed 8 The Sandpit. Wilson Rd, South Head.
Sat 11 Closing Hunt. Tarawera Rd, Parakai.
Cancellation/Information Line
For the most up to date information on the day of a Hunt event call the cancellation/information line.
Ph: 0832 99 820
Join NZ's only full time drag hunt & experience the fun of hunting to hounds
At Waitemata Hunt, an artificial scent is laid across the countryside during the Hunt meet. Hounds, Huntsman, Master and the field of riders follow the scent over well prepared jumps, or through the farm gates. We get to enjoy the thrill of following a pack of hounds at full cry, over some magnificent countryside. Waitemata Hunt's territory is predominantly to the north west of Auckland, on many farms situated between Coatesville to the south, South Head to the west and State Highway 16 to the north. With an annual calender of events including hunting, trail rides, overnight treks and hunter trials competition - there is a serious amount of fun that you and your horse can have, as a member of Waitemata Hunt. Our members ages can range from 8 to 80, and we often have mum, dad and the children all out riding together. Waitemata Hunt is a very friendly sporting organisation and our members encourage newcomers to enjoy the traditional sport of hunting to hounds.
If you would like to join us for a day out at one of our hunt meets please contact us